As electric trucks have now gained a foothold in the global market, the focus has shifted from production to successfully supporting electric vehicles (EVs) on public roads. Volvo Trucks, a leader in electric truck production, considers carbon pricing an essential mechanism for financing the necessary charging infrastructure to ensure the continued operation of such vehicles.
Jessica Sandstrom, the head of product management at Volvo, emphasized the urgency of accelerating the transition during a media briefing held in Gothenburg, Sweden. She stated, "We need to speed up the shift and we need to do it now. Public charging networks will be a key to scale. To have long-term ways of handling this, we believe that carbon pricing would be a good way to do it."
The Swedish brand initiated the production of battery-electric trucks in Blainville, France, with a primary focus on refuse and distribution models back in 2019. The VNR Electric marked its initial production in the United States at the New River Valley facility in Virginia. Additionally, last year, the OEM expanded its production to include the heaviest vehicle range, which commenced series production at the Tuve plant in Sweden. In total, Volvo currently has six battery-electric truck models in full-scale production. These include North America's VNR Electric, as well as Europe's FL, FE, FH, FM, and FMX.
Series production of Volvo's EV trucks is also now taking place at a factory located in Ghent, Belgium. This factory already serves as Volvo's largest production site, boasting an annual capacity of approximately 45,000 trucks. Electric models will be assembled on the same production line as their diesel and gas-powered counterparts, with the battery packs sourced from a newly established plant situated adjacent to the production line.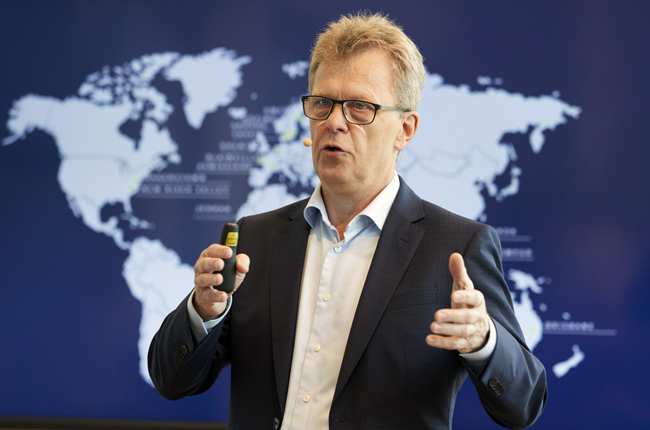 "We have a huge responsibility as a truck manufacturer and as an OEM, we need to change our way of living and our way of acting and our way of being."
Although battery-electric trucks will serve as the primary technology, Sandstrom emphasized that the OEM also recognizes the significance of hydrogen-electric fuel cells as a crucial solution for addressing long-haul transportation and handling heavier loads. Echoing Volvo Trucks president Roger Alm's statement that there is not only one single bullet to reach the zero-emissions target. In partnership with Daimler Truck, they are actively involved in the development of fuel cell technology through the joint venture known as cellcentric.