Driverless buses are the next upgrade for Seoul's public transportation system. This week, representatives from the Seoul Metropolitan Government and Seoul Metropolitan Council announced that a pilot project featuring self-driving buses is in the works. The project will involve a 9.7-kilometer (6-mile) cross-city journey from Mapo District in western Seoul to Dongdaemun District in eastern Seoul. The launch of this pilot project is expected to happen soon.
During this pilot project, the driverless buses will operate for five hours starting from midnight. Three buses will be used for the pilot project, which may expand once the autonomous bus service is open to the public.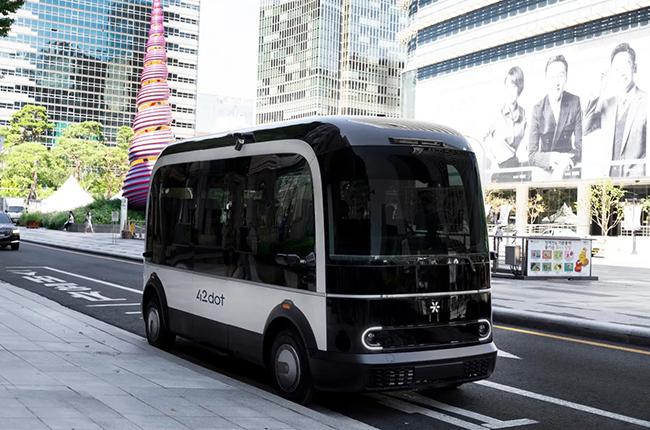 Prior to this announcement, driverless buses were already roaming the Seoul metropolitan area. 42dot, a startup company owned by Hyundai Motor Group, has developed a bus that is capable of level 4 autonomy. A level 4 automated vehicle is capable of operating almost independently with little to no human intervention. Before that, level 3 autonomy has given cars the ability to detect their environment and enable them to make informed decisions for themselves, such as accelerating past a slow-moving vehicle.
Level 4 autonomous vehicles take this a step further. With level 4 autonomy, vehicles can now intervene if things go awry or if it detects a system malfunction. Unlike level 1 and 2 automation, vehicles with autonomous capabilities level 3 and above can operate without the presence of a human driver.
Going back to Seoul, the capital has announced that it will extend the autonomous bus route by an additional 3.5 kilometers to the northeast after the buses become available to the public later this year. The initial route will run between Mapo and Dongdaemun for two years, with the extension enabling passengers to travel up to Cheongnyangni.
As early as October, the Seoul city government is in talks to introduce autonomous road-cleaning trucks. According to officials, Sangam-dong in Mapo District or Cheonggyecheon in downtown Seoul could potentially see one or two of these trucks in operation.
The development of autonomous vehicles is gaining momentum, as multiple automakers and startups strive to create vehicles that can either match or exceed human decision-making on the road. With Korea beginning to incorporate such technology into its public transportation system, it raises the question of when the Philippines will follow suit and introduce autonomous vehicles on its own roads.