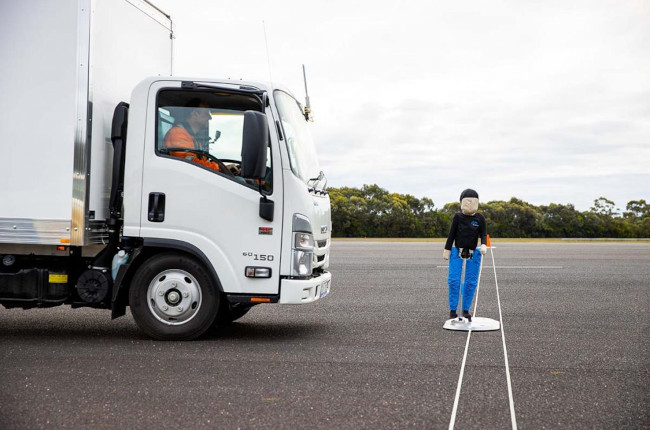 If you're familiar with Isuzu's lineup of passenger vehicles, you will notice the Advanced Driver Assist System (ADAS) listed on the Isuzu D-MAX and mu-X's spec sheets. This safety package includes a forward-collision warning along with emergency braking to keep you, your vehicle, and anyone else on the road safe from harm.
Turns out, Isuzu believes in the system so much that it is installing it on some of its larger vehicles. No, that doesn't mean that the brand is planning to roll out an even bigger SUV, it'll give the system to its commercial vehicle line, namely the N-series.
The safety package includes forward-collision warning and emergency braking, which fills in the gaps should a driver fail to notice an obstacle approaching in front of them. Isuzu says that the system can detect other vehicles, pedestrians, cyclists, and obstacles. The warning will sound first, and it will trigger the emergency braking system should the vehicle get a little too close without input to the brakes.
Using a Hitachi Stereo 3D Camera, the vehicle is able to "see" when an obstacle is approaching. It's got accurate object detection, as well as speed and depth perception for assurance and safety both in the daytime and nighttime. The camera's field of view also allows it to see objects that could potentially be smaller in height, such as children or other short objects.
Just like your eyes, Isuzu trucks use a dual-sensor system, which gives it ample information to perceive depth and give an accurate three-dimensional analysis of the space in front of the lenses.
On top of that, you also get a lane departure warning, which gives truck drivers sensors pointed to the side of the vehicle to detect whether there is an oncoming vehicle before setting off.
Considering how trucks are often hard to drive due to some visibility concerns and their sheer mass, Isuzu is taking a step in the right direction to make the roads safe for all users, including pedestrians.
However, this innovation will only be made available in Australia for now on November 1, 2021. Isuzu Philippines has yet to make a move to install its ADAS package on the bigger rigs of the Isuzu lineup, but the point is, it's possible, and it's something that we would love to see moving forward.