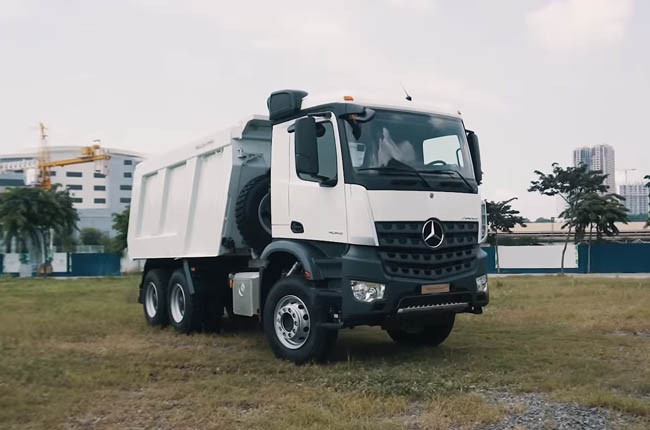 Mercedes Benz Commercial Vehicles Philippines has officially launched the Arocs 10-wheeler tipper truck into the local market. This also served as the very first vehicle to launch online from the brand's commercial vehicle arm in the country. The Arocs Tipper, with its versatility and robustness, is ideal for construction sites as well as for off-road duty. To keep everything tough and long-lasting, Mercedes Benz exclusively makes the engine, transmission, and axles. The Arocs trucks are completely built units from Germany that are shipped to the Philippine market.
On the outside, the Arocs comes with a tipper body which was built by Meiller, a first-class and reputable truck body builder located in Munich Germany. It comes with a 20.6 m3 box type tipper body that is wear-resistant and robustly built for all road conditions. The truck also comes with a front axle rating of 9,00kg, a rear axle planetary rating of 16,000kg, curb weight of 10,000kg, and a Max gross vehicle weight of 40,000kg. The Arocs also comes with 325/95 R24 tires along with a fuel capacity of 290-liter and an AdBlue capacity of 60-liters. As for its measurements, the truck comes in with a wheelbase of 3900mm, length of 7855mm width of 2500mm, and height of 3656mm. It also comes with a rear overhang of 800mm and a turning circle of 21.7m, making it a great addition to your construction site.
The Arocs also shines in the safety department as its electronic brake system (EBS) is based on a pneumatically operated dual-circuit air brake system with a constant pressure of 10 bars. This is then controlled by a higher level EBS. To further add to this the vehicle also comes with ABS and Acceleration Skid Control (ASC) and auxiliary brake functions are also integrated into its EBS. While not the first manufacturer to this with large commercial trucks, Mercedes Benz Philippines has also equipped the vehicle with airbags for both the driver and the passenger.
The Arocs comes powered by the OM471 6-inline cylinder 12.8-liter engine that produces 449hp and 2200 Nm of torque, it shifts via the German brand's PowerShift3 transmission. This gives the truck high driving comfort, precise gear selection, enhanced handling, and lower fuel