In the market for a small business vehicle? Heed this list of 15 small commercial vehicles you can get for under P1.4 million. These vehicles come in a variety of power plants capable of meeting almost any budget. To be on the list the vehicle can't be based on a full-on commercial truck.
Suzuki Super Carry (P489, 000 - 580,000)
First on the list is Suzuki's familiar Super Carry is powered by an 800cc turbo diesel engine. The small power plant produces 32 hp – a plus for those who are looking for a small efficient commercial vehicle that's also thrifty on diesel. It can be configured to be a standard small truck, a cargo van, or a utility van. Its small engine only lets it carry 735 kg, including the passenger and driver.
Suzuki Carry (P489, 000 - 614,000)
Launched on September 30, 2019, it is Suzuki's latest addition to its commercial vehicle lineup. The Carry not to be confused from its Super Carry diesel-fed counterpart as it has a 1.5-liter engine from the Jimny. The 1.5-liter mill produces 96hp and 135 Nm of torque. Along with a bigger engine, the Carry comes with the benefit of having air-conditioning compared to just the fan option of the Super Carry. The small commercial vehicle can carry a maximum of 940 kg worth of payload.
Suzuki APV utility van (P660,000)
A step above the Carry twins, the APV Utility van gives buyers a bigger body and a familiar face. Powering the APV variant is a 1.6-liter engine that produces 92 hp 127 Nm of torque. What it lacks in power, it makes up for in bigger cargo space. Suzuki Philippines hasn't released any official specifications on the vehicle's cargo capacity. Suzuki has a 73 dealership wide coverage in the Philippines matching that of Toyota. But 25 out of the 73 dealerships are satellite dealerships and may not have services centers attached to them.
Mitsubishi L300 (P804,000 998,000)
A still popular choice for the small business owner is the venerable Mitsubishi L300. This has been a mainstay in the market since the '90s and has been one of the go-to options of small business owners in the country. With a new lease on life – thanks to a new Euro IV-compliant engine – the small commercial vehicle is here to stay. Powering the vehicle is a new 2.2-liter engine that produces 97 and 200 Nm of torque. Like the rest on the list, the vehicle can be had with multiple configurations for the rear. But a popular choice is the FB body which can both service passengers around and carry cargo as well. The vehicle has a cargo capacity of 1,085 kg. For parts and services, Mitsubishi has 56 dealerships available, ready to service your vehicle.
Foton Gratour (P510, 000- P698,000)
Another choice for a small commercial vehicle comes from Foton – the Gratour. Powering the small vehicle is a 1.5-liter gasoline engine that produces 110 hp and 142 Nm of torque. It has an advantage over the Suzuki Carry by 14 hp and 7 Nm of torque. Foton hasn't released official specs yet with regards to the vehicle's cargo capacity. Parts and services can be had with Foton's 27 dealerships nationwide.
BAIC H5 Bayanihan (P638,000 - 814,000)
Another offering from a Chinese company is the BAIC H5 Bayanihan. With a Filipino name, this vehicle is sure to slowly win over buyers with its attractive price point. Powering the vehicle is a 1.8-liter diesel engine producing 60 hp and 150 Nm of torque. The vehicle can carry 1,000-1,500 kg depending on the variant chosen.
BAIC Freedom (P488,000 - 548,000)
The BAIC Freedom is a go-to option for those who want to have a double cab option vehicle. Powering the vehicle is a 1.4-liter gasoline engine producing 95 hp and 115 Nm of torque. Its load capacity varies from the variant you chose from. It will range from 905-990 kg. Spare parts and services can be found at the company's 11 dealerships nationwide.
Hyundai H-100 (P945,000 - 1,380,000)
A Korean offering to the list is the Hyundai H-100. It features a 2.5-liter turbo diesel engine that produces 128 hp and 255 Nm of torque. This is one of the vehicles on the list with the most torque that can haul up to 1,700 kg worth of cargo – easily one of the biggest on the list. As for parts availability, Hyundai Philippines has 42 dealerships nationwide that can help service or repair your vehicle.
Kia K2500 (P810, 000 - 998,000)
Another option from Korea is the Kia K2500. It comes with a 2.5-liter engine that produces 128 hp and 255 Nm of torque. The vehicle has a load capacity of 835 kg which is smaller than that of its Hyundai counterpart the H-100. Despite this, the K2500 is still a viable option for those who want a commercial vehicle for their small business. Parts and repair services can be had from Kia's 32 dealerships nationwide.
JAC X200 (P820,000 - 985,000)
One of the few Chinese offerings to the market is the JAC X200. It comes in an array of variants to choose from to better suit the need. It can be had with just the cab and chassis all the way to aluminum vans, people carriers, and dropside pickups. Powering the vehicle is a 1.9-liter engine that produces 94 hp and 240 Nm of torque. JAC has three dealerships within Luzon ready to service its vehicles. The company has three dealerships available in the Philippines for parts and services.
Tata Ace HT (P369,000)
A wild card to the list this small commercial vehicle comes with half the number of cylinders of its competitors. The Ace HT comes with 2-cylinders instead of the four that the rest of its competitors have. Powering the vehicle is a 702cc engine that produces 16 hp and 38 Nm of torque. Not a lot but it can be ideal for those who need to ship light amounts of cargo around the city. The vehicle comes with a payload of 710 kg a surprising amount considering the rather small engine.
Tata Super Ace (P579,000 – P834,000)
Unlike its smaller-engined counterpart, the Super Ace has a more conventional setup coming with a 1.4-liter diesel engine with 70 hp and 140 Nm of torque. With a significant bump in power compared to the Ace Bata, it can take a bigger payload. The maximum capacity of the vehicle is 1,000 kg. Tata currently has four dealerships for parts and services.
Pickup based commercial vehicles
If you are interested in something a little bit cheaper but pickup based then these options are something to consider. They offer the same if not similar space and versatility as their truck-based counterparts but come at a cheaper price.
Toyota Hilux Cab and Chassis (P829,000)
Up first is the Hilux cab and chassis. This is a good basis for business owners as the vehicle can be easily customized to fit the job. It can be outfitted with a closed cargo area or even various kinds of beds. Powering the vehicle is the 2.4-liter engine that produces 136 hp.
For parts and services, Toyota has 73 dealerships ready to serve you and your vehicle.
Isuzu D-Max cab and chassis (P807,000)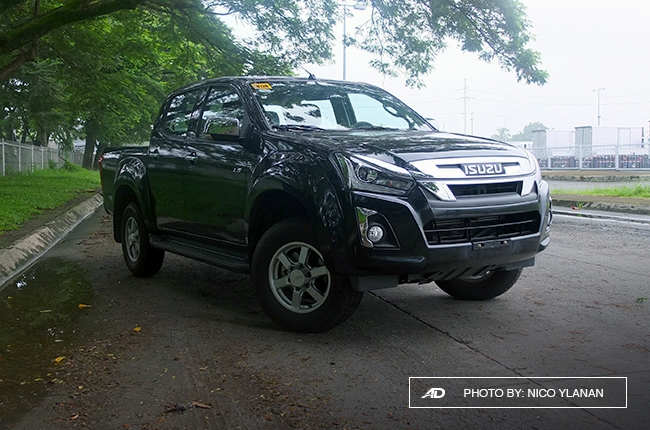 Another option for the pickup commercial vehicle segment is the Isuzu D-Max. Powering the pickup is the 1.9-liter RZ4E engine that produces 148 hp and 360 Nm of torque. The D-max is available with various configurations to better suit the job demanded of the vehicle.
For parts and services, Isuzu has 43 dealerships nationwide ready to service and repair your vehicle.