2023 Dongfeng Captain E Cargo 10ft
P950,000 - P1,440,000
Image Gallery
View Dongfeng Captain E Cargo 10ft interior, exterior & road test images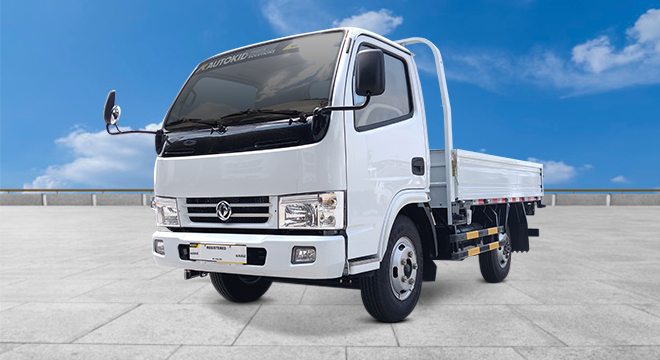 Dongfeng Captain E Cargo 10ft Overview
Among its fleet of powerful workhorses, Dongfeng Trucks Philippines has the Captain E Cargo 10ft, which is an affordable light-duty commercial truck. It comes in different body configurations such as the Aluminum Van, Dropside Body, Multipurpose Van, and Refrigerated Van.

The Cargo 10ft 4-wheeler model is the shortest wheelbase variant available for the Captain E model in the Philippines. It has a wheelbase of 2,515 mm that gives it provisions for a 10ft rear body that can be easily adapted to the needs of the customer. The light-duty truck comes with a gross vehicle weight of 4,450 kg and has a payload capacity of 2,450 kg. It can have cargo dimensions of 3,100 mm in length, 1,880 mm in width, and 400 mm in height. This makes the vehicle ideal for construction, transportation, logistics, food transportation, pharmaceuticals, aggregates, cargo, and machinery applications.

Powering the light-duty truck is a 2.8-liter turbo-diesel engine that produces 113hp and 200 Nm of torque. That sends power to the rear via a 5-speed manual transmission. The truck rides on steel leaf springs that come with hydraulic double-acting telescopic shock absorbers. Stopping power comes from a hydraulic brake system that comes with a dual circuit with vacuum assist and ABS.

Stepping inside the Dongfeng Captain E Cargo 10ft, there is a manual air conditioning unit for comfort and a single-din audio system for entertainment that can be found at the center console. Other notable features include power steering, power window, and keyless entry.

For businesses with specialized cargo transportation needs, Dongfeng offers the dropside variant of the Captain E. The dropside variant can accommodate large amounts of cargo while making it easy for customers to access the truck bed.

The multi-purpose van variant is available for customers who prefer a versatile transportation solution. The MPV variant can act as a people-hauler while also transforming into a cargo hold in a pinch.

For added cargo protection, Dongfeng has the aluminum van variant of the Captain E Cargo 10 ft. This configuration offers an added layer of protection for customers that need to transport sensitive cargo.

Dongfeng also offers a refrigerated van variant of the Captain E Cargo 10ft truck. This variant can easily transport perishable goods for long distances while keeping the products fresh. The refrigerated van variant can also function as a vaccine transporter.
Dongfeng Captain E Cargo 10ft Variant and Pricelist
View our pricelist table and select a variant to view further specifications.
Similar Trucks
Get quote
Inquire
Get the Best Deal
Ask for a quotation or send an inquiry to our official partners and receive a quick reply to your TruckDeal Inbox. Choose the right truck at the right price.

Dongfeng Dealerships
Contact a dealer for a quote or inquiry, and receive a quick reply.
View All 13 Dealerships
Want to learn more about the Brand?
Find all Dongfeng truck models, price list, news and reviews.

Dongfeng Philippines
>
Signup for Alerts
Do you want to be the first to know about the latest Truck deals? Just subscribe with your email address and we'll send you alerts on the most incredible deals as they happen.
You may unsubscribe from these alerts any time. Please review our privacy policy for more information.