2023 Hino 300 Series XZU730L Cargo
P1,690,000
Image Gallery
View Hino 300 Series XZU730L Cargo interior, exterior & road test images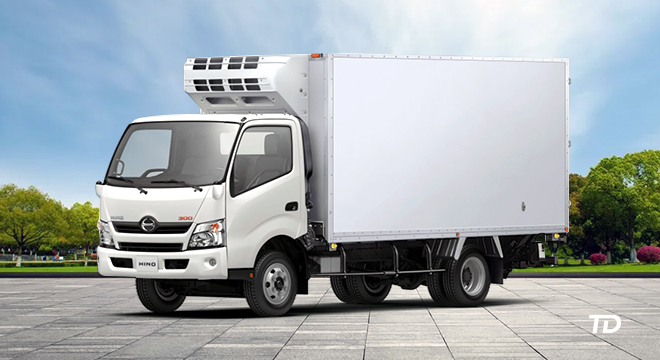 Hino 300 Series XZU730L Cargo Overview
Hino Motors Philippines Corporation or commonly referred to as HMP launched its light-duty trucks 300 Series in January 2009. This model series aims to deliver reliable commercial vehicles with high-efficiency performance, ideal for growing businesses.

Hino's XZU730L is a 6-wheeler light-duty variant of the 300 series of trucks. It comes with a strong chassis that makes the vehicle adaptable to almost any kind of business-related application. It comes with a wide cab and a gross vehicle weight of 8,500 kgs, it also has a wheelbase of 4,200 mm. The truck comes equipped with semi-elliptic leaf springs with double-action shock absorbers at the front and semi-elliptic main and auxiliary leaf springs with double-action shock absorbers at the rear. Stopping power comes from a hydraulic braking system that comes with 2 leading brake shoes for the front and rear wheels.

It is powered by a 4.0-liter diesel engine that produces 148 hp and 420 Nm of torque that is EURO 4 compliant. It sends power to the rear wheels via a 6-speed manual transmission with overdrive gear.

The XZU730L can be had in a variety of rear body applications such as Aluminum Van, Dropside, Multi-Purpose Van, Refrigerated Van, Prison Van, Mobile Kitchen, as well as Stake Truck, Rescue Truck, Fire Truck, Garbage Dump Truck, Crane and Dropside as well as a Garbage Compactor. The rear body can even be customized to the specifications of the customer. This makes the truck a versatile platform that can be easily adapted to the needs of the client.
Hino 300 Series XZU730L Cargo Variant and Pricelist
View our pricelist table and select a variant to view further specifications.
Similar Trucks
Get quote
Inquire
Get the Best Deal
Ask for a quotation or send an inquiry to our official partners and receive a quick reply to your TruckDeal Inbox. Choose the right truck at the right price.
Want to learn more about the Brand?
Find all Hino truck models, price list, news and reviews.

Hino Philippines
>
Signup for Alerts
Do you want to be the first to know about the latest Truck deals? Just subscribe with your email address and we'll send you alerts on the most incredible deals as they happen.
You may unsubscribe from these alerts any time. Please review our privacy policy for more information.