2023 Scania P-Series 450
Price On Request
Image Gallery
View Scania P-Series 450 interior, exterior & road test images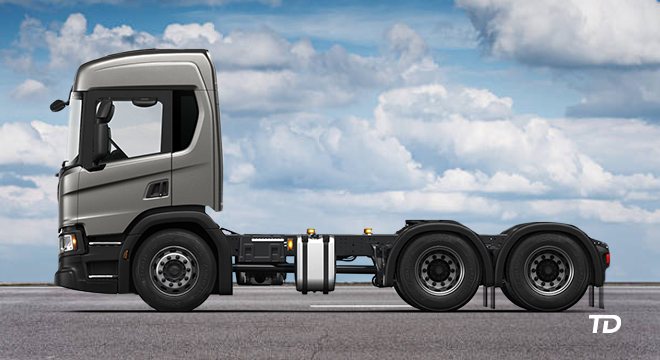 Scania P-Series 450 Overview
Scania's most powerful P-series in the lineup, the 450 offers customers 13-liter power with up to 450 hp on tap. Compact with a low cab weight, the P-Series is one of Scania's most versatile ranges in its lineup. It can be configured for a myriad of surfaces ranging from paved or even dirt roads.

Scania offers two types of cab designs, short/day or sleeper. Short and day cabs offer a comfortable driving experience for the crew with multiple storage spaces and an ergonomic cabin layout. The Day cab is offered in a variety of height variations, namely the P-Short cab, P-Day Cab Low, and the P-Day Cab Normal. Meanwhile, the Sleeper expands the cabin area with more storage capacity, a resting area, and expanded room behind the driver and front passenger. Under this type of cab, Scania has the P-Sleeper Cab Low, the P-Sleeper Cab Normal, and the P-Sleeper Cab Highline.

As for other body configurations, Scania offers the P-Series in either a tractor body or rigid body. Wheel configurations for the tractor body are 4x2, 4x4, 6x2, 6x2/2, 6x2/4, 6x4, and 6x6. For rigid trucks, the number of wheels and tires increases, allowing Scania to offer a wider range of configurations like 4x2, 4x4, 6x2, 6x2/2, 6x2/4, 6x4, 6x6, 8x2, 8x2*6, 8x2/4, 8x4, 8x4*4, and 10x4*6.

Expect a 13-liter turbo-diesel motor in this truck. With figures of 450 hp and 2,350 Nm, it stands as the most powerful P-Series truck in the lineup. There is also the option of getting either Scania's 8 or 8+1-speed gearboxes under the Range-Change line. Another option for the transmission of the P-Series is the Range-Splitter gearbox, which has up to either 12 or 12+1 gears. Following that, Scania equips its powertrains with either single-driven rear axle gears or tandem-driven axle gears that allow the truck to handle up to 78 to 80 tones of gross vehicle weight with the single-driven set, or from 80 tons all the way to 210 tons with the tandem-driven set.

Scania also offers a bodybuilding service that allows clients to suit the truck for any need in any industry. On top of that, the premium service also allows customers to receive instructions, drawings, and details about their equipment, as well as tools, certificates, and online tutorials.
Scania P-Series 450 Variant and Pricelist
View our pricelist table and select a variant to view further specifications.
Similar Trucks
Get quote
Inquire
Get the Best Deal
Ask for a quotation or send an inquiry to our official partners and receive a quick reply to your TruckDeal Inbox. Choose the right truck at the right price.
Want to learn more about the Brand?
Find all Scania truck models, price list, news and reviews.

Scania Philippines
>
Signup for Alerts
Do you want to be the first to know about the latest Truck deals? Just subscribe with your email address and we'll send you alerts on the most incredible deals as they happen.
You may unsubscribe from these alerts any time. Please review our privacy policy for more information.