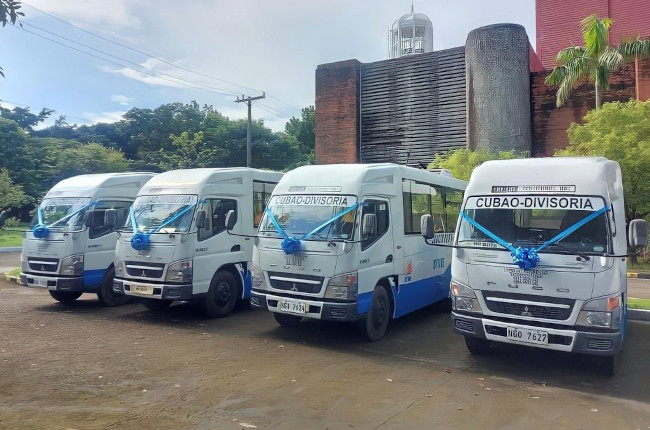 Sojitz Fuso Philippines (SFP) is continuing its commitment to contribute to driving development for the betterment of transport and living in the Philippines. The brand's Canter Commute Modern PUV Class 2 is one such product that can enhance the commuting experience of Filipinos.
Four units of these Class 2 Modern PUVs were handed over to On-Us Solutions, Inc. on September 1, 2022, at the UP Bahay ng Alumni in Quezon City. Following the handover ceremony, the units were immediately sent out into the front lines to meet commuter demand for clean and efficient transportation. The route that these modern PUVs will be assigned to will be along Cubao, Quezon City, and Divisoria, Manila. These units will also mark the first time that the brand's PUVs will be covering the Cubao and Divisoria areas.
The Canter Commute isn't just a box with an engine and four wheels, it's a modern commuting machine equipped with CCTVs, Wi-Fi, GPS tracking, LED Route Signage, and an LCD monitor on top of being air-conditioned. Any fare collection system may also be employed depending on the operator.
Also equipped with a Euro 4-compliant engine, the Canter Commute also promises clean emissions while retaining a level of performance and efficiency that operators will appreciate. The 3.0-liter engine can effortlessly transport up to 30 people, with three in the front (including the driver), 17 in the side seats, and up to 10 standing passengers in the middle.
"We believe we are changing the landscape of public transportation for the better. BYAHE will bring convenience and safety to the riding public while contributing to a more organized and efficient transportation sector. We are also very thankful to FUSO for supporting the PUV Modernization Program."
"SFP is willing to contribute to the sustainable development of PUVMP [Public Utility Vehicle Modernization Program], while also offering efficient and well-equipped vehicles to support for customers' business needs. The FUSO Modern PUVs are designed to deliver powerful driving performance, longevity, and reliability," Fuso's press release also states.