2023 Hyundai HD 270 Dump Truck
Price On Request
Image Gallery
View Hyundai HD 270 Dump Truck interior, exterior & road test images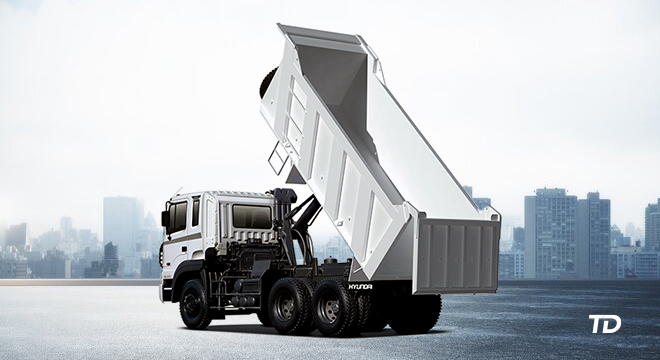 Hyundai HD 270 Dump Truck Overview
The Hyundai HD 270 is a heavy-duty truck that features enhanced durability, outstanding performance, and better convenience. Like the rest of Hyundai's trucks and buses range, this 10-wheeler model provides greater durability and superior performance. As for exterior dimensions, it measures 7,635 mm long, 2,495 mm wide, 3,130 mm tall, and has a minimum ground clearance of 300 mm.

Hyundai's HD 270 Dump Truck is run by an 11-liter 6-cylinder engine that churns out a healthy 316 hp and 1,373 Nm of torque. Its mill is then paired with a 6-speed manual, plus, this model supports a 6x4 drivetrain. Braking power is provided by front and rear air brakes, while its suspension setup features front and rear semi-elliptic, laminated leaf springs with double shock absorbers. This model also has an anti-lock braking system (ABS) for added safety. Other convenience features include an adjustable driver's seat and an air conditioning system.

The HD 270 Dump Truck is for use in waste management, construction, and other industries that need a capable and large dumper to go along with a heavy-duty truck. Likewise, it can be modified in accordance with the customer's specifications.
Hyundai HD 270 Dump Truck Variant and Pricelist
View our pricelist table and select a variant to view further specifications.
Similar Trucks
Get quote
Inquire
Get the Best Deal
Ask for a quotation or send an inquiry to our official partners and receive a quick reply to your TruckDeal Inbox. Choose the right truck at the right price.
Hyundai Dealerships
Contact a dealer for a quote or inquiry, and receive a quick reply.
Hyundai, Baliwag

DRT Highway, Pagala, Baliwag, Bulacan, Philippines

Hyundai, Ilocos Norte

National Highway, San Nicolas, Ilocos Norte
View All 20 Dealerships
Want to learn more about the Brand?
Find all Hyundai truck models, price list, news and reviews.
Hyundai Philippines
>
Signup for Alerts
Do you want to be the first to know about the latest Truck deals? Just subscribe with your email address and we'll send you alerts on the most incredible deals as they happen.
You may unsubscribe from these alerts any time. Please review our privacy policy for more information.