2023 Hyundai Universe
P9,080,000
Image Gallery
View Hyundai Universe interior, exterior & road test images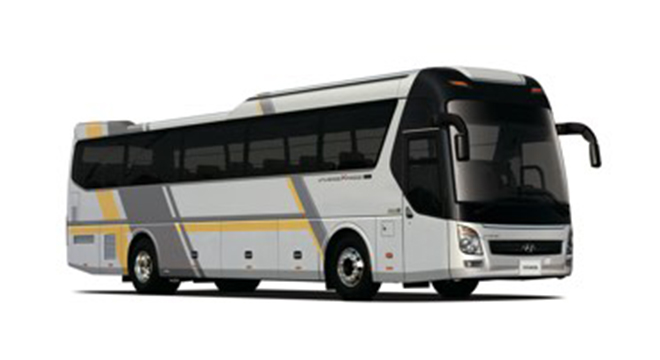 Hyundai Universe Overview
The Hyundai Universe is a heavy-duty luxury coach bus. The Universe is available in three variants: Noble, Luxury, and Classic. All three variants are available in different seating capacities and configurations according to the customer's needs.

The 2-door Noble variant comes with an overall length of 12,000 mm, a width of 2,495 mm, and a height of 3,490 mm. The Noble's wheelbase sits at 6,120 mm. The 2-door Luxury variant meanwhile has an overall length of 11,780 mm, a width of 2,495 mm, and a height of 3,340 mm. The Luxury variant's wheelbase is 5,850 mm. The third variant, the single-door Classic, measures 11,650 mm in length, 2,495 mm in width, and 3,340 mm in height. Its wheelbase is 11,650 mm.

Depending on the variant, the Hyundai Universe comes available with a set of engine options. These include 11-liter and 12.3-liter diesel engines with power outputs ranging from 231 hp to 404 hp. Torque figures range from 764 Nm to 1696 Nm, depending on the chosen engine. Drivetrain options include a 5-speed or 6-speed manual transmission.

Braking power for the Hyundai Universe is provided by front and rear air brakes for all variants. The Universe rides on an air suspension system for the Noble and Luxury variants, and a leaf spring suspension for the Classic variant. Customers also have the option of fitting this luxury bus with an Anti-lock Braking System (ABS).

The interior of the Hyundai Universe is spacious and luxurious. The driver is treated to a comfortable driving space with a multi-functional driver's seat, driver's partition, power window and air conditioning controls, chassis system controls, and a sporty instrument cluster. Passengers are also indulged with high-deck seating, a fluorescent room lamp, mood lamp, LED floor lamp and 2-row LED line lights. Cargo is similarly generous, as the Universe provides the driver and passengers with plenty of shelf space.

The Hyundai Universe is for the discerning customer who values style and sophistication. This luxury coach bus can comfortably ferry people across long distances while keeping its occupants comfortable and wrapped in luxury.
Hyundai Universe Variant and Pricelist
View our pricelist table and select a variant to view further specifications.
Similar Trucks
Get quote
Inquire
Get the Best Deal
Ask for a quotation or send an inquiry to our official partners and receive a quick reply to your TruckDeal Inbox. Choose the right truck at the right price.
Hyundai Dealerships
Contact a dealer for a quote or inquiry, and receive a quick reply.
View All 20 Dealerships
Want to learn more about the Brand?
Find all Hyundai truck models, price list, news and reviews.
Hyundai Philippines
>
Signup for Alerts
Do you want to be the first to know about the latest Truck deals? Just subscribe with your email address and we'll send you alerts on the most incredible deals as they happen.
You may unsubscribe from these alerts any time. Please review our privacy policy for more information.