2023 Scania INTERLINK HD Big Bus
Price On Request
Image Gallery
View Scania INTERLINK HD Big Bus interior, exterior & road test images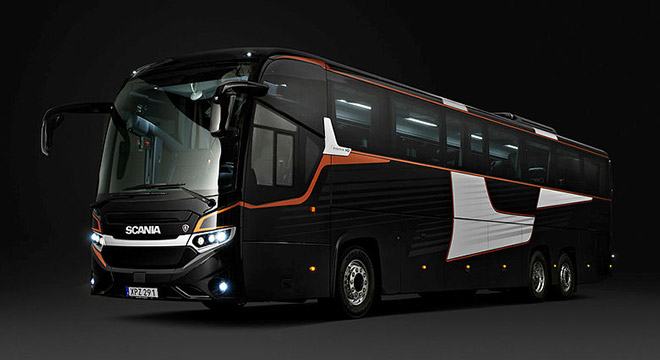 Scania INTERLINK HD Big Bus Overview
This Interlink features the highest roofline and the most expansive cargo area, the Interlink HD is the top-spec offering from Scania's Interlink lineup. The HD in the name stands for "High Decker," and it boasts a bigger cargo area and a higher floor compared to either the MD or LD.

As the biggest model in the lineup thanks to its dimensions alone, Scania offers up to two lengths for the HD, as well as another axle set for the largest size. Lengths range from 11 meters, all the way to 14.9 meters, with the latter having the third axle.

For powertrain options, the Interlink HD comes with either a 9-liter turbo-diesel engine or a 13-liter turbo-diesel engine. These motors can be powered by Biodiesel, HVO, or normal diesel, and the 9-liter features a power and torque output that ranges between 280 to 360 hp, and 1,400 to 1,700 Nm of torque, respectively. Meanwhile, the biggest offering in the lineup is the 13-liter turbodiesel, which has up to 490 hp and 2,550 Nm of torque in its most powerful tune.
Scania INTERLINK HD Big Bus Variant and Pricelist
View our pricelist table and select a variant to view further specifications.
Similar Trucks
Get quote
Inquire
Get the Best Deal
Ask for a quotation or send an inquiry to our official partners and receive a quick reply to your TruckDeal Inbox. Choose the right truck at the right price.
Want to learn more about the Brand?
Find all Scania truck models, price list, news and reviews.

Scania Philippines
>
Signup for Alerts
Do you want to be the first to know about the latest Truck deals? Just subscribe with your email address and we'll send you alerts on the most incredible deals as they happen.
You may unsubscribe from these alerts any time. Please review our privacy policy for more information.