Last October 18, 2023, Isuzu Gencars Inc. and Isuzu Philippines Corp. (IPC) joined forces to mark the revitalization of Isuzu Batangas in Santo Tomas. The dealership underwent enhancements aligned with the Isuzu Outlet Standard (IOS), reflecting the brand's design philosophy. With these upgrades, Isuzu Batangas is now well-prepared to deliver top-notch customer service, promising an improved and seamless buyer experience.
The opening ceremony was spearheaded by Tetsuya Fujita, President of IPC, and Edgard Cabangon, Chairman of Gencars. Both leaders took the initiative to personally guide guests through the newly upgraded facility, starting with a tour of the renovated dealer façade and frontage. The facility has ample parking space for customers, solidifying its status as a prominent landmark at the populated intersection along Sto. Tomas National Road.
Following its recent renovation, Isuzu Batangas' showroom is now capable of accommodating up to six light commercial vehicles and two trucks, offering enough space for sales transactions, a kids' play zone, and a comfortable customer waiting lounge. The remaining 5,184 sqm of its land area has been dedicated to a newly established, well-lit, and ventilated service shop. This service facility is equipped with eight bays tailored for light vehicles and an additional bay exclusively designated for trucks, ensuring the dealership's readiness to handle aftersales service for any Isuzu models.
"A leader for more than 45 years, GENCARS has been providing the best sales and aftersales service to our customers in different areas in Luzon – giving the highest priority to customer experience. And with this new IOS facility, we are confident that Isuzu Batangas will be able to provide better service and increase our customer satisfaction in the province."
At the event, Chairman Edgard Cabangon of GENCARS expressed gratitude to IPC for its ongoing support and outlined the company's future plans. He shared, "Our new expansive showroom and service center in San Pablo, Laguna is set to open its doors very soon, and it, too will exhibit the Isuzu Outlet Standard. A new showroom will also rise in Naga City next year. In addition to this, we are working on remodeling all our other dealerships with the Isuzu Outlet Standard."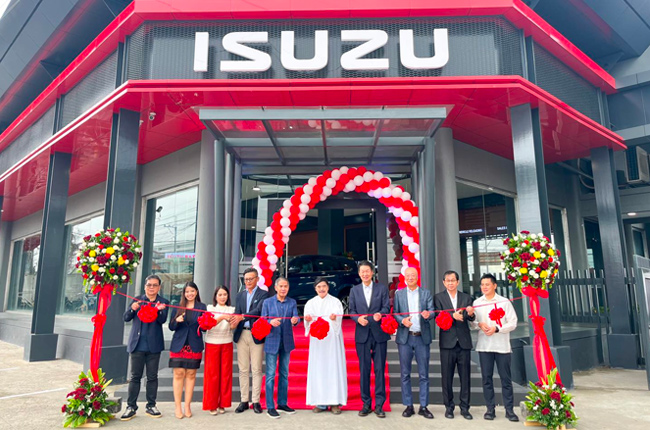 As for what the Isuzu Outlet Standard means, according to Isuzu, the new standard construction of their facilities is designed to be conducive to the needs of Isuzu's customers. Isuzu added that the Isuzu Outlet Standard gives importance not only to the transaction between customer and brand but also to the overall customer experience, or journey as Isuzu likes to put it. This improvement to the experience will be evident starting from a customer's inquiry, after-sales service, and subsequent visits. Overall, the IOS facilities are designed to convey Isuzu's support for its customers, whatever their reason for visiting might be. If you want to experience this for yourself, Isuzu Batangas' doors are now open to the public.